In 1850, a compound chemist in Yorkshire, England named Thomas Dixon created an active skin healing ointment, selling his "miracle balm" in his store. Thomas passed the store and the recipe for the in-demand balm to his son William who emigrated to Halifax, NS bringing the recipe with him. The secret recipe remained in the family and in 1975, William's granddaughter Elaine began mixing and selling jars of the healing balm for her patients.
Skinfix products use a unique combination of vitamins, minerals, emollient oils and powerful, active, natural, pharmaceutical grade ingredients that restore the lipids, protect the skin barrier and heal – all at once. All products are created without fragrance, irritants, and most importantly, without steroids
Skinfix products contain more active, natural, pharmaceutical grade ingredients with proven benefits in healing rashes, eczema and dermatitis than any other products on the market. The formulas are also packed with emollient oils like jojoba to nourish, botanicals like aloe to soothe, and rich barrier ingredients like shea butter to protect.
We believe healthy skin can be a reality, and Skinfix can help!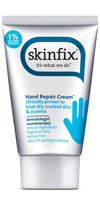 Hand Repair Cream
Clinically proven to treat dry, cracked skin and eczema. This specially formulated hand cream contains 1% colloidal oatmeal to target eczema, dermatitis and extreme dryness. Skinfix Hand Repair Cream™ calms redness, relieves itching, and rebuilds the skin barrier with a blend of healing botanicals, rich natural butters and emollient oils. This highly effective, natural formula is free of steroids, fragrance, and soy.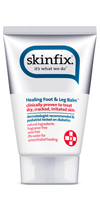 Foot and Leg Balm
Clinically proven to treat dry, cracked, irritated skin. Skinfix Healing Foot & Leg Balm™ is a concentrated healing and moisturizing formula for severely dry feet and legs due to diabetes or poor circulation. This powerful balm delivers deep moisture directly where it's needed to help repair cracks and fissures, and to help keep feet and legs protected to maintain healthy skin. Jam-packed with healthy botanicals, vitamins and minerals that benefit skin, this balm does much more than traditional foot creams and is urea-free*.
*Urea is a synthetic humectant and exfoliant that is used in some foot creams. At high levels urea can be very sensitizing and cause irritation, which is why Skinfix uses more natural and safer ingredients.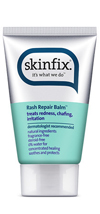 Rash Repair Balm
Soothes and protects skin from wetness, friction and irritation. This healing balm tackles skin chafing from clothes, a tough workout or a few extra pounds. It protects and prevents chronic rashes from repeated wetness. It immediately soothes the effects of minor burns that happen from too much sun, a rough shave or even post waxing. This natural, hydrocortisone and steroid-free balm is loaded with skin-saving natural active ingredients that calm and protect skin. NO hydrocortisone, steroids, parabens, phthalates, gluten or added fragrance.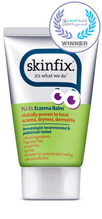 Kids Eczema Balm
Treats eczema, dryness and dermatitis. Kids Eczema Balm™ is specially formulated to work safely and quickly to halt eczema flare-ups on the spot for your children. This rich, soothing balm goes on quickly to bring relief to dry, itchy patches anywhere on the body. A safe alternative to steroid creams, so moms don't have to worry and kids can be kids again. This balm is pediatrician-tested and dermatologist-recommended, made with natural ingredients, free of steroids, fragrance, soy, parabens and phthalates and is safe and effective.