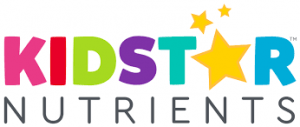 About KidStar™
We founded KidStar™ Nutrients because we wanted clean supplements for our own children. Finding nothing on the market that wasn't full of added sugar and needless fillers, we set out to research and formulate clean supplements that we would be proud to give to our own kids
KidStar™ Nutrients believes that a supplement should only have clean ingredients that you need in it and nothing more. KidStar Nutrients are clean with nothing to hide.
KidStar Nutrients products are third-party independently tested and safe. Parents can feel good about giving our nutrients to their children. Our nutrients are clean because KidStar Nutrients believes a supplement should only contain what you need and nothing more.
KidStar Nutrients is a proudly Canadian family-managed company.
Listed below are the most commonly requested Kidstar items that we carry, however the may have additional products in the store. If you are looking for a particular product and do not see it on this list, please feel free to call us at 604-261-0333 as we may have it in the store.
StarMulti Chewables
BioFe Pure Iron Chewables
BioFe+ Iron Liquid
All-In-One Plant-Based Protein