If you are unable to make it to the pharmacy in person, we would be pleased to have your medication or purchase delivered to you.
Following are our delivery policies:
For deliveries within Vancouver:
We deliver 6 days a week – Monday through Saturday.
Deliveries of prescriptions are complimentary.
For deliveries not including a prescription a $5.00 delivery cost will apply. *Non-prescription deliveries over $100 are complimentary.
Any special delivery requests (for prescription and/or non-prescription items) are to be paid by the client.
Example: Express post items
For deliveries outside of the areas covered above:
We deliver 6 days a week – Monday through Saturday.
Delivery will be made by courier or Canada Post and charges will be paid by the client.
*Please note that delivery is only available within Canada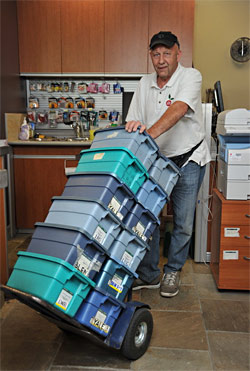 Garry Filby
Garry has been the pharmacy delivery driver part-time since 1995 and full-time since 2000. Garry delivers to our patients in their homes around Vancouver as well as to the nursing homes we service.
He has yet to miss a day of work and has been terrifically reliable in getting the medications to patients during the summer heat, the incessant Vancouver rain season, and the inevitable winter snow storms.