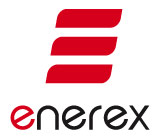 Enerex Botanicals was formed in 1997 with the objective to create a very special class of nutritional supplements which would offer the consumer the highest level of efficacy, without compromising any step in the creation of the final product. Only the very finest raw materials which meet full pharmaceutical standards for purity and potency are used in the products. Enerex products are designed without compromise to bring to the consumer the finest nutritional supplements. Enerex products are housed in recyclable BPA-free PETE plastic containers to provide the best protection against oxidation, moisture, sunlight, and chemical migration from container to product. In all of these areas, PETE is virtually equal to that of glass but without the larger environmental footprint left by glass packaging.
Listed below are the most commonly requested Enerex items that we carry, however this does not represent a complete listing of the products that we have.
If you are looking for a particular product and do not see it on this list, please feel free to call us at 604-261-0333 as we may have it in the store.
Orega More (Oil of Oregano)
Omega 3 (Wild Omega 3)