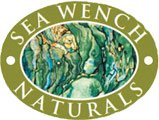 Sea Wench is uniquely Clayoquot Sound… all natural, in a place surrounded by ancient forests, mountains, pristine rivers, diverse wildlife and fresh, clean ocean air.
Still produced in small, personal hand-made batches, the Sea Wench line of cleansing, healing, nourishing and uplifting products includes only natural, non-harmful, environmentally friendly ingredients and processing. Taking care to ensure quality and environmental integrity in everything made, Sea Wench products are made with loving care and dedication to full circle goodness, from Earth to human and back again.
Many of the plants used are grown and tended in the gardens in Clayoquot Sound. Seaweeds and wild ingredients are gathered and extracted on site. Essential oils are made from flowers and leaves immersed in only the finest of oils and ingredients.
See the list of Sea Wench Natural body care products and Sea Wench personal care, pet care and home care products we carry also.
If you are looking for a particular Sea Wench Natural item and do not see it on this list, please feel free to call us at 604-261-0333, as we may have it in the store.